I'm in the back of my friend Josh's SUV right now; we have been on the road for about 10.5 hours now - hours which have been characterized by nine episodes (and counting) of House M.D., sharing childhood anecdotes and stopping by the side of the road to put out potential forest fires then waiting for the fire trucks to take our statement. All of my joints are extremely stiff in the way that only days of extreme physical exercise followed by a 10.5+ period of almost complete motionlessness can accomplish. Granted, I am not in as bad of shape as
Nicole
, who sprained her wrist (or at least severely strained the tendons) on the last leg of the trail today. Regardless, we can't wait to get back home, take a shower and SLEEP.
I was planning on doing a really detailed post about the trip tomorrow once I got all the photos sorted, tagged and edited, but that may have to wait until I've at least gotten something of a jump on the 14 secondary applications for which I received requests while out on the trail... I'll try to have something up in the next couple of days, even if it is just a random smattering of my favorite shots and time lapses.
Until then, you'll have to be satisfied with some unedited preview shots that I managed to load onto my iPad:
Above: part of a time lapse of us putting our tent together. I'll have the full thing in the days to come.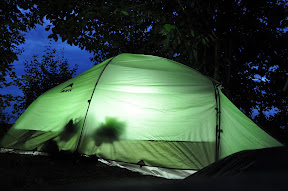 Above: our tent at night. I love these long exposure night shots.
Above: one of the many awesome waterfalls we got to see while on the trail. I've got a lot of great shots, probably enough for a dedicated to just waterfalls... We'll see.
Above: a good shot showing the steepness of some of the trails.
Above: another good one showing just some of the steepness.
Above: the sunset over Lake Superior from our camp on top of a bluff last night. I'll leave your with that as a preview, though it was more than I intended, as my eyes are gritty and my screen is blurring and dancing before my eyes as I write. Goodnight!