Instead of trying to split this into multiple posts, I've decided to just stick a bunch of stuff that I want to share into one very varied post. I've decided that this will be named as a combination of Blog and Vomit, making Blogmit. Every time I feel like I've just got too much going on, I will Blogmit.
Here's my backpacking backpack. It was originally a cheap Jansport external frame that I souped up to have a stand. That's right - $15 extra and I've got an easily packable stand-alone pack!
Our new place (which I can't really show you very good photos of yet because they're on my laptop, which doesn't have an internet connection yet (this post was done on my iPad and posted via its data connection)) does not have a vented dryer hook-up. This was surprising, given that it has a 4-prong dryer cord (which I had to rewire our dryer to be able to use), washer hookups and a washer drain. When I asked the maintenance guy what we should do, he suggested that I buy a new dryer that would condense the water vapor back into liquid, then drain it down the washer drain. HA! No way. We bought a $13 ventless filter attachment thing, as seen above. You fill the bucket with water and it catches the lint. Yeah, it puts out a lot of hot, moist air, but that will be welcome in the winter, and until then it's still cheaper to run the AC a little more than to pay $1.75 for each load in the dryer down the hall...
Speaking of air conditioning: ours isn't working. Yesterday the AC was working but the fan wouldn't shut off. The handyman spent six hours trying to replace the circuit board and finally got it so the fan would cut off when the room reached the target temperature. He thought he was good. When I got up this morning, the temperature was 80 degrees inside. After three hours of the above ventilation system, the photo below was taken.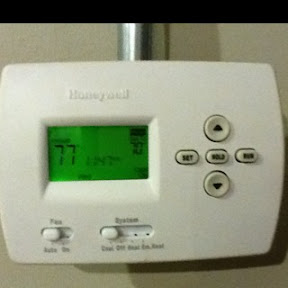 In other news, I've been riding my bike (still no battery yet... probably going to be another two weeks before I get a replacement to the one that I ordered on June 18 and received on July 8, then sent back again on July 12) to work each day. It's much easier now that we only live about 1.5 miles away, though I'm still sweating up a storm by the time I get there each day. It only takes me about 7 minutes, and will only take me about 3 once I get that battery... Again, I'll do a full write-up on my bike (with video, I promise!) once it's all put together.
On the med school front, my application is still in line to be reviewed and distributed to medical schools. It's taking a little longer than I thought, but I'm hoping that when we get back next week it will have been verified and I'll be able to get started on writing the bulk of my secondary essays.
Lastly, I will be taking pictures all along our backpacking trip with the Nikon. I plan on writing a post for each day of the hike, but we'll just have to see... For those of you that made it this far, we'll be hiking in the Porcupine Mountains of the Upper Peninsula of Michigan, with the highlight of the trip being the Lake of the Clouds. I've never been up that way before, but I expect it will be incredible. Wish us luck, as I heard that the bears have been uncharacteristically active and bold this year...!