All right, I know it took me forever, but I finally got some time this weekend to get these photos out. I realized when I went back to look at my preview post that those photos were all blurry, so I'm just putting all of the photos up. I'm not sure what happened with those last ones, but I think I've got it all set for this post... Enjoy, and if you feel so inclined, let me know what you think!
Here's the map of the path that we took (in orange), including the points where we stopped (circled and labeled). These points will coincide with photos that I've included after the jump break. Click below to load the rest!
Here's
Nicole
, looking a bit sleepy as we got ready to go.
Josh
's Pathfinder, packed to the gills.
Inside view. To the left was my seat in the back. It was a tight fit, but I had a blast.
The road trip group in front of the Mackinaw Bridge. From the left: Josh,
Jamie
, Jon, Nicole, Me.
My view out the back window. It's a long way through the Upper Peninsula.
Eleven hours later, we stayed at a campground near the trailhead.
Rest of the group.
The sunset over Lake Superior was incredible that night.
Josh and I were all about taking pictures this trip. You'll see him in a few of my shots.
This wasn't as cool as the next one, but it was too nice to leave out.
This was probably my favorite sunset picture of the trip.
Yup, that's a sunset...
The Lake of the Clouds! It's actually a lot bigger than it seems; it was just really far away.
That's us! We had a lot of these types of photos this trip.
There's the whole group together just before we headed out on the trip.
That view was amazing. If you're ever up in the western Upper Peninsula, definitely check out the Lake of the Clouds. PEACEFUL.
Me and Nicole, posing.
Posing again.
What do you write for photos like this? Maybe nothing.
Lake of the Clouds again.
Notice, I MIGHT be on the wrong side of the wall...
Nicole likes getting the points from Moosejaw for photos like these.
That wall was old.
Nicole was giving me a hard time about going over the fences. I can't IMAGINE why.
Don't worry, I was smart about it, never getting near the edge.
One more regular shot of the lake of the clouds.
However, take a look at the speck just to the left of the middle of the lake.
Look really closely. That is a boat! That shows just a bit of the scale of how big this lake is.
Here I zoomed in a bit on the boat.
Zoomed in a bit more, and you can see him paddling in to shore.
With the help of some digital zoom, you can see it a lot better. I thought that was pretty amazing.
Almost hit a deer!
It was pretty chill around the cars, just checking us out after it ran for its life.
We HIT the trail! It was pretty warm for the UP.
The beginning portion (and most of the rest) of the trail was a lot of loose shale and rock. Sorry for the blurry picture; it was under the canopy and not the steadiest environment.
Jon and Josh, getting some water.
Occasionally we took snack breaks. I went up over a bluff and found a cool view.
The view didn't come out so well in the photo, but it was fun.
We found these cool rocks sticking out of the water and decided to relax and have lunch.
Setting up the tent in the first campsite. This is just a still shot of our MSR Holler tent, but below you'll find a time lapse of us setting it up.




I think I set the camera to take pictures every four seconds or so. The Holler is a sweet tent to set up, and it's incredibly spacious inside. MSR did a great job with it, and it was awesome to use it on this trip.


We used a gravity bag to filter our water - specifically the
Platypus Gravityworks Filter
. Each bag holds four LITERS of water at a time so that you can have 4L of clean water on hand with 4L of dirty water ready to filter at any moment.

It takes probably a minute or two for each liter you want to filter, but you don't have to do a thing; just set it up and go. The tubes disconnect so that you can just unclip it and dispense the clean water right into a bottle or pot, then hook it back up to filter some more without ever spilling a drop.



This is what our campsite looked like on an average day.



That's Josh and Jamie's tent - it's pretty sweet too.


That's our
Eagles Nest Outfitters DoubleNest Hammock
. It was a tossup between it and the gravity bag for what was my favorite piece of gear during the trip. I even slept in it one night, and it was incredibly comfortable.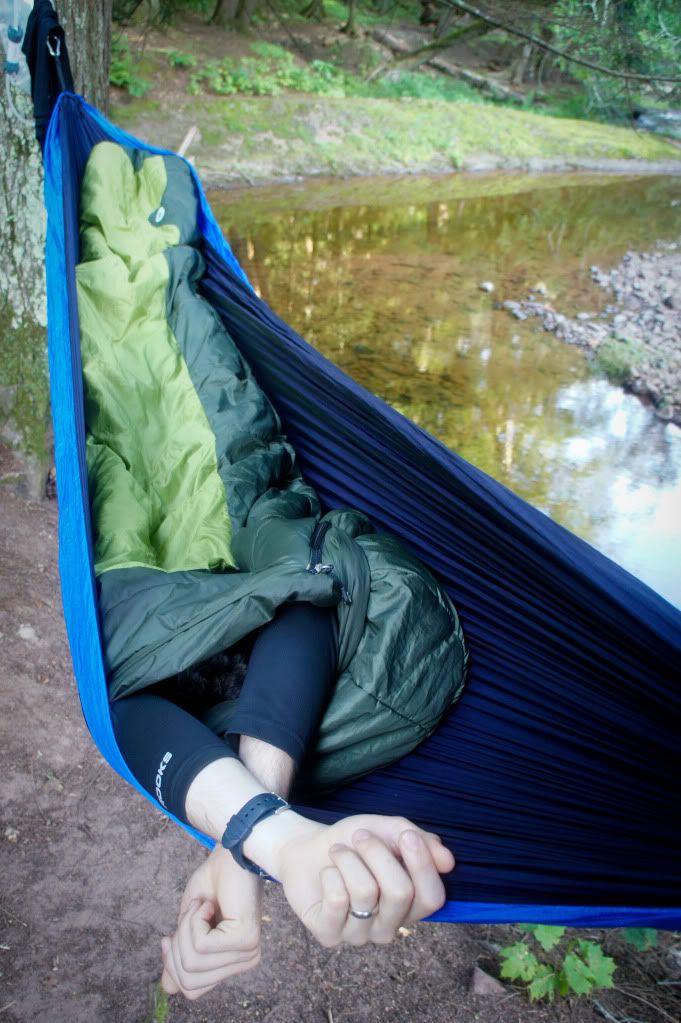 This is one of Josh's pictures of me sleeping in the hammock! I stole it off of his blog.
I hope he doesn't get mad about this.
Here's Nicole, taking a siesta after Day 1.

One of my favorite things about this trip was that most of our campsites had a cool view, whether of rivers or Lake Superior.




This was the shoreline down below our first campsite. Below is a time lapse of how the clouds moved over the lake that evening.


If you watch carefully, you can see the clouds start to drop rain at around the 2s mark, but it's not as clear on youtube as it is on my computer...

Night shot of the Knaps' tent.




Night shot of our MSR Holler.




That's Susanne, up at the crack of dawn for devotions. I went crazy on the editing of this one, just for fun.




I went a little nuts on this one as well.



This is a time exposure of the waves lapping at some rocks. It ended up looking like snow, which I thought was cool. Josh got a
picture of me
that morning as we tried to catch a good sunrise, but were left feeling a little wanting...

Josh and Jamie figuring out the next place to go on the map.




Packed up and ready to head out for Day 2.



"Leave No Trace" - the Backpacker's motto.




I said goodbye to the shoreline. I thought it would be tough to beat that first camping spot, but I was in for some surprises.


This is my downward view while backpacking. I've got a
Lowepro Toploader Zoom 45 AW (Black)
, and it's perfect for taking my Nikon on the trail. It even has a rainfly so I don't have to put it away in the event of inclement weather.

This looks like it's out of the trailer of some video game...



There weren't tons of hills during certain portions of the trips. Plenty of wooded valleys to trek through.



I had an absolute BLAST on this trip. Being out in nature, surrounded by nothing but miles and miles of trees, rivers and lakes - awesome.




Perspective...



One of a bazillion tributaries flowing into Lake Superior.

I got a kick out of the long exposure shots on this trip - especially with waterfalls and streams.
If you are bored by such things, get ready for a nap.



Just a random river we crossed.



River and Logs!




Another stretch of river.



Again, I had a blast - can't say it enough.




This was the most difficult shot I took the whole trip. This photo was actually taken through the trees on my side of the river, across said river, and through the trees on the other side. It was incredibly tricky with the lighting, and I'm really lucky to have gotten this shot as clearly as I did.



I don't know why, but I really like seeing the detail in mushrooms.



Sideshot.



We backpacked through some of the only stretches of old-growth forest left in Michigan. The scale of some of these trees was pretty cool.



Here, we were hiking along a ridge line overlooking the river below us.



This is a long exposure. The white trails you see are the paths that the bubbles floating on the surface take as they're moved around by the current.



Waterfall!




Waterfall!



Rocks and Waterfall!



Tree and Waterfall!



Log and Waterfall!
This is a time lapse of us setting up camp at the end of Day 2. I set the camera up high in the trunk of a tree that had broken off about twelve feet up from the ground to get the perfect angle.

This is what a normal dinner and/or breakfast would look like. In this case, we were hanging out having dinner after the above time lapse on Day 2.

I did my best in the absence of a tripod to take a picture of the tents that night. A little blurry, but I'm happy with it.




There goes Nicole, getting more points for Moosejaw.
Oh, and WATERFALL!



More points and Waterfall!



Us and a Waterfall!



Up and down, up and down; hiking in these "mountains" was difficult enough, I can't imagine what it would be like to hike some real mountains, like the Appalachians or the Rockies...




They might not be true mountains, but they still had some pretty steep stretches...




Exhausting or not, it was fun.



Another shot just showing how steep it was - and at thirty to fifty pounds per pack, that's not easy for anyone.



This was a really weird fungus - sort of looked like it was made of lacquered wax or something...



Waterfall! A little overexposed, but I liked how you could see the bottom so well in all this water. You wouldn't think it was full of LEECHES. That's right; I don't have pictures of it, but I went in the water and got just COVERED in leeches, all over my legs. Nasty.



Long Exposure WATERFALL!



There were a ton of waterfalls along this route, in case you haven't noticed.




This is my hilarious wife, pretending to be a turtle. The funny thing is that after I took this picture, she really couldn't get up without help...



That's us! Just over two years of marriage and having the time of our lives.



It's amazing how many of these bridges are constructed in the middle of nowhere. Plus, they're really sturdy! The volunteers and park employees that do this are awesome.




I like the bridges so much, I had to take my picture with one...




And then we climbed another hill.



Teeny tiny stream, but I liked how the light dappled it by falling through the branches.



Ok, so we were up on the top of this huge bluff when we decided to stop for lunch on Day 3. I looked down and saw we were about 75 yards from the shoreline through the trees. I wanted to go down, but was alone in that desire. When I went down, this was what I found! People had set up all these awesome stones to be like seats!




I kicked back and had the most relaxing and peaceful lunch of the whole trip.



Just me and the bluest, prettiest waters as far as I could see. I can still hear the lapping of the water on the rocks...




I imagined that I was on a deserted island somewhere. It was SO PRETTY.




This is my Tropical Island shot. Man, these photos just don't do it justice...



I found this piece of driftwood when I went exploring after finishing my lunch. It was so cool, I REALLY wanted to keep it. I'd never do something like that, though...




It was a cool change to have rocks underneath all the water. SO MANY ROCKS!



That's me and Nicole, holding hands. Thanks for taking this one with my camera, Josh.



Nicole, Josh and Jon, having a bath. NO! Of course those are not campsuds, getting used less than two hundred yards from in the lake!




The water just seems to stretch forever...



This was the view from our lookout-style campsite on the evening of Day 3.



Pretty view and smooth, smooth waters...



That was a beautiful, peaceful sunset. I don't think it would have been any better even if I was in that jet soaring through the sky near the top of the frame...



The colors just got richer as the evening wore on.


This one reminds me of that Calvin and Hobbes comic about colors...
Probably one of my favorite strips of all time. Makes me think of how I might have some fun as a father some day...

Day 4 involved quite a bit of climbing down...



...and down...



...until we got to the Presque Isle River. In the process, Nicole sprained her wrist pretty badly. The poor thing... She was such a trooper though - look at that smile!



Grinning through the pain; anything for those POINTS!



From here on out, the waterfall shots get better, I promise.



We were there in the dry season, so we could actually run around on rock formations which are covered in raging flood waters during the Spring and earlier summer.



I love catching the motion of the water beside the stillness of the rocks.



This is my favorite waterfall picture of the trip. You can see miniature waterfalls behind the main falls.
Very cool.




PRETTY!
I admit, that one word is a bit of an inside joke, but I'll gladly share it. Last year when we backpacked Pictured Rocks, our friend Susanne was up on a rock ledge overlooking a particularly beautiful stretch of Lake Superior. Without a care, she yelled out, "PRETTY!" It was more like, "PRETTYYY!!" What she didn't know was that there was a guy who had been skinny dipping down below, and he was just climbing out of the water. We had a huge laugh, and I can't help but think of that every time someone says, "PRETTY!" when we're out on the trail.



It would have been difficult to get a bad shot of some of these falls...



I don't know if it was a bad idea to do this right at the beginning of my semester or not... It makes me want to go out in nature again!




Actually, at this point I am kind of tired of writing captions for my photos. Plus, I'm getting really thirsty. Sure could go for a drink of water... Ehh, I'll just steal some from Nicole's water bottle. She's sitting across from me...




Thanks for the drink, Nicole. I'm much less thirsty now.




We didn't end up getting as close to these as we could have, but we were all pretty exhausted at this point.



This shot was taken from atop a bridge, which kept shaking anytime someone walked or even moved on it. It was tough getting a long exposure shot where everything was clear. Those holes were really cool though!



Some signs said that when the waters were high, these could become whirlpools that would just suck you right under!




I'd like to come back when the river is flooded and see what this looks like then!



Hooray, we finished!




And that's the group. There were already talks of something next year, either out west or east, Rockies or Appalachians. Any votes?



On the drive back, we became impromptu firemen. I didn't get the camera out in time to catch all the smoke and flames (I REALLY WISH I HAD) because of the excitement of the moment. There was actually a ton of smoke and the flames were spreading really quickly. The fire probably started only a minute or two before we drove past. In another one or two minutes, it would have been too big and moving to fast for us to have stopped it.



We tried to figure out how the fires (there were three burning patches total, two within fifteen feet of each other and one that was about 1/4 mile away from those two) started, but all we ended up guessing was that someone had thrown a cigarette out the window, and the ashes had spread before starting the fires. HEY, PEOPLE WHO SMOKE! USE YOUR ASHTRAYS INSTEAD OF LITTERING AND CAUSING THE POTENTIAL FOR DANGEROUS FOREST FIRES!




We were really lucky that we could stop the fires before they really took off. We called the fire department before we got them put out, and the lone fireman retired farmer that pulled up in the fire engine thanked us profusely, saying if it had been much bigger he wouldn't have been able to handle it.

Inspecting and hypothesizing.



That's right - two fires in the middle of nowhere.



I liked the clouds in this one, as well as the placement of the two brothers...


And that's the group, fighting fires and trying to walk off the stiffness...



So that's the tale of our backpacking trip through the wilderness of the Porcupine Mountains on the Northwestern coast of Michigan's Upper Peninsula. If you actually read through all of these, way to go! Feel free to leave a comment on your way out.

For those of you that are reading this because you're interested in my path to becoming a physician - I promise I will write more just as soon as I have something to write about. I plan on putting some of my primary and secondary essay material up here once I get accepted and decide where I'm going.

As for right now, it's time to make sure I'm squared away for homework for tomorrow morning...
Goodnight!